A Look Under the Hood at Orion Growth

There's little doubt in anyone's mind that going back to work will look different for different organizations.  My son uses the line, "you do you" when he experiences a difference of opinion or suggests an alternative way to do something.  Companies will need to embrace the concept of "you do you" for a while and keep their employees in mind as they prepare to get back to the office. 
At Orion Growth, we have a standard gig-bag – an office toolbox – that we issue when new people join our team.  Welcome kits are nothing new to onboarding, but our 'welcome-kit' comes with horsepower, research, and field-tested data. It includes both physical hardware (Devices) and virtual (Content Management/Software).  Because we think it's best to pack up and take your office with you at the end of the day, we thought we'd share our tool box of mobility.  Let's take a look under the hood:
THE TRAVEL BAG:
Don't underestimate the importance of a good gig-bag.  We use the Ogio Axle Laptop Backpack for it's convenient size, weight, and travel ease. The TSA approved compartment allows you to keep your computer inside the bag at screening. The durable double rip-stopped face-coated material handles abuse well. The side mesh pockets are great for water bottles or odds and ends and the reinforced aluminum carry handle adds to the look and durability.  We embroider our Orion logo on the outside of each bag for proper branding and awareness. This bag is built tough, and it's affordable. 
THE COMPUTER + EXTRAS FOR ON-THE-GO:
Currently we use the Microsoft Surface PRO 7.  There's a lot of reasoning behind this selection.  First and foremost,  it's a 2-in1.  Think laptop for work and notebook for convenience. Coupled with its slim profile, light weight, and extended battery life – this device packs a ton of features and functionality into a small frame … and for a decent price.  Tech specs are here.  Also standard issue for us is the optional Bluetooth mouse (no USB required) and pen, a super-functional tool when in notebook mode for meetings or to relax the mind while coloring or doodling on long flights. 
THE DESKTOP CONFIGURATION:
We chose Microsoft's Surface devices because of their flexibility when on the go.  But when staying home or hitting the office, the Surface Dock turns it into a powerhouse by connecting it to dual monitors, and a wireless keyboard and mouse. The functionality of this computer feels no different than working on a traditional tower-style CPU.  We connect two Dell UltraSharp monitors to a Chief clamp-style monitor arm.  We chose a single clamp-style to reduce the redundant cost of two, independent arms, but greater range of motion might suit your workflow better.  Regardless, getting the monitors off the worksurface allows for easy daily disinfecting of the desktop as well as improved productivity and ergonomics.  This setup has proven efficient in our workflow time and time again, especially when reviewing drawings, auditing contracts, or using web-enabled video conferencing.  There's no substitute for having a native file on one screen while interacting with remote team members on the other.  We stick a simple, Logitech webcam to the monitor, and we're off and running!  Last but not least, we like to give our crew desktop courtesy power so they can charge via standard plug or USB.  Devices like this have been met with rave reviews.
HEADPHONES:
Headphones get their own subject line from us.  Tied with the task chair, this item is the most personal, subjective accessory in the office.  Some people love wires, some hate them.  Some swear by inside-the-ear pods while others love double, over-the-ear, noise cancelling cans.  After a BUNCH of different field tests, we standardized on the Poly (formerly Plantronics) Voyager Focus UC for four main reasons: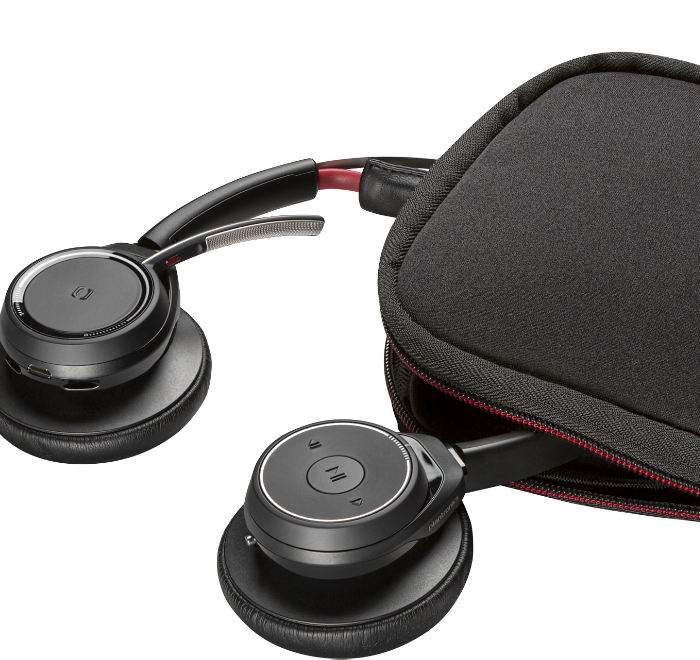 Active Noise Cancelling – BOTH microphone and earphone need ANC.  Most people forget that, without a noise cancelling microphone, you allow outside audio to creep into meetings.
Sound Quality – the double muff, over the ear sound quality puts you IN the call, not on it.  Even audiophiles can appreciate the sound quality.
Talk Time – 12 hours on a full charge.
Device Integration – It connects to PC via dedicated USB dongle, but simultaneously to any mobile device via Bluetooth.  Everything notifies to a centralized headset with independent controls for mute, noise cancelling, and volume.  They also offer tech support – which has proven very valuable.
Full disclosure: it takes a while to get used to these headphones.  They're not small, and you will be subject to ridicule due to the double over-earphones and the boom mic.  We've been told we look like we're landing airplanes while on team conference calls, which is a true statement.  I look at it like this; I wear a suit out of respect for the person I'm meeting with.  I wear these headphones out of respect for the people I work with. The noise cancelling function on both sides is unparalleled and I think focus and audio clarity should be the paramount consideration when making a decision on headsets.  I know I can't live without mine, especially now that I'm working from home.
FURNITURE:
Not all furniture is created equal.  We made an investment for the long term when buying ours.  With help from our partners at Trendway, we designed custom workstations with high pressure laminate and mobile pedestals.  The design intent was singular: keep it flexible. 
Anyone in our office can get up and move to a different seat.  We simply disconnect our Surface from the dock, unplug any courtesy items that may be charging, and put our peripherals in our bag. 

At Orion, we now have a clean desk policy post Covid-19, meaning that each night, all employee items are packed up and brought home to allow for the proper cleaning and sanitizing of the office.  We have no tangled mess of cords, because we connect via Meraki WAP's and we don't have desk phones.  We've avoided the cost of structured cabling, and thoughtfully planned our workplace to be endlessly modular and to maximize mobility.  This forethought has proven invaluable during office restrictions and return to work. 
---
APPLICATIONS:
Each user has a Microsoft 365 Business account with an additional Project license.  We run our projects using Teams sitting on top of Sharepoint.  All drawings are authored in AutoCAD and marked up with Bluebeam REVU, but 100% of our company files live in the cloud and we've custom built our file taxonomy for extensive BI.  This level of organization enables us to move chunks of data into any application at anytime while maintaining a consistent file allocation hierarchy and avoiding service interruption.  We have learned firsthand how important autonomy is during this proprietary-forward IT business climate.  All data is locally backed up (real-time) to a Synology drive which is powered and protected by an APC UPS.   This configuration has allowed Orion to eliminate on-prem server hardware and the expenses associated with cooling, venting, and maintaining a dedicated telco space.  The cost avoidance and ROI is staggering, not to mention the entire system can be managed remotely, which takes required site visits out of play. 
We carefully select add-ons to our remote-managed suite of applications. We use Feenics Keep for Access Control/Security. We use Zoom Rooms for Video Conferencing. We use Airtame for wireless screen-sharing. We use HarvestApp for enterprise timekeeping.  Each of these applications has an open API, allowing us the ability to write scripts that monitor every signal between them.  We envision a time when we'll be able to issue an access control badge and completely configure all software applications including HR & Payroll, software licensing, and office control settings from a centralized, remote platform. 
Through all of this, we remain solely focused on one thing: Employee Experience.  Ironically, there's nothing more personal than how our employees embrace and engage these various pieces of technology.  We strive, every day, to keep their end-user experience on the forefront of our technology decision-making.  How we relate to our everyday virtual workplace is defining our virtual culture. We've found that most leadership discussions have only scratched the surface of this kind of thinking, both for the physical and virtual workplace.  (Yes, virtual culture is alive and well within workplaces with GREAT tech).  Orion Growth is fundamentally transforming the way workspace is delivered, and finding success by putting our employee experience first.
---
Chris Moeller is Principal of Orion Growth, a full service real estate consulting firm that services portfolio clients across the United States.
Photo "Two persons using Surface" by Christina @ wocintechchat.com